F D O M E = F L A M I N G D R A G O N S O F M I D D L E E A R T H
E D C M = E L E C T R I C D A N N Y C R U Z M U S I C
"ALL ROADS LEAD TO DOME" LP
300 copies with black and white paste-on artwork
$12 USA // $22 Canada // $27 World ~ all prices are postage paid
ALL ROADS LEAD TO DOME!!! The new LP from Danny Cruz's Flaming Dragons of Middle Earth. These tracks were recorded between 2010-12 at FDOME's weekly practices, hellacious sleep-overs, dinner parties at CASA Cruz, by the banks of the Connecticut River, and at a Western Mass recording studio owned by a part-time wizard. Danny Cruz's vocals will inspire you to find more peaceful ways to navigate the struggles of the 21st century. Each LP comes in a recycled jacket with a paste on artwork.
get in touch with One Kind Favor for distribution
stream or download the complete album of hellfire
MOST RECENT PUBLIC ACCESS TV PERFORMANCE:
I COME TO SLAY TOUR VIDEO:
Turner Falls' Flaming Dragons Of Middle Earth. Led by wheelchair-bound 'band shaman' Danny Cruz and consisting of a rotating group of non-musicians, psychedelic drop-outs, teenage metallers, kids with Down Syndrome etc, Flaming Dragons play a form of super crude/sophisticated free rock ala The Godz or even a punk-primitive Arkestra but with Cruz's stunning, oracular vocals giving them a mainline to the freak flag style of prime Captain Beefheart, Roky Erickson and Wasa Wasa-era Broughton. Cruz's instant lyric inventions are as mind-boggling as your favourite medium while the group lurch around on staggering brokedown rhythms somewhere between early-Sabbath, Robbie Yeats of The Dead C and The Shaggs. Their material ranges from stripped-down raps to lumbering psychedelic rock, as well as free-form freakouts w/lyrics that obsess over murder, bloodshed, astral creeps and, uh, Joni Mitchell... indeed Cruz makes most 'sound poets' sound like children's entertainers.

- Volcanic Tongue
Flaming Dragons of Middle Earth
is a Mudlightning Metal super-group. Danny Cruz - lead vocal, guitar // PLUS Jeremy Latch, Loren Burke, Coco Schachtl, Nick Williams, Mary Collins, Bob Sekulla, Cory Matthews, Cathe Janke, Lady Gaga on Key Board, Robin Whitcomb, Hedy Stegner, Zack Suker, Frank Hurricane, Lucy Watson and Chris Dooley sometimes and sometimes there used to be other members. Also you are a member, why don't you come to practice anymore? Flaming Dragons of Middle Earth is looking for to be playing gigs in the northeast at houses, basements, night clubs, in New York City and all over and L.A. too. EVERYWHERE, even Scotland if you pay us. Why don't you pay us to come David Keenan? You wrote so many nice things. Also everyone buy our vinyl album from
Feeding Tube Records
. There are still some more for you to buy, so we can be rich and famous without greed, but with money. We'll rock it in Birmingham too like our heroes in Black Sabbath. Our lyrics are about good and evil, sexual raw things, Satanic evil, evil, Satan, demons and vampires of Middle Earth, dancing in the club, money, fame, anti-greed, peace and love, God, middle earth, loving Lady Gaga, loving friends, love and heartbreak, wars with demons and gods, 2012, 666, zombies, communists, nihilists, G.G. Allin and how he's wrong, genocide, homicide, bedlam, murder, Buddhism, Shintoism, Hinduism, hedonists, SEX, gay rights. You can host an F.D.O.M.E. hell party right in your own living room. Send all pro-gay, anti-racist, anti-military booking inquires to our dungeon master -
flamingdragonsofmiddleearth@gmail.com
Discography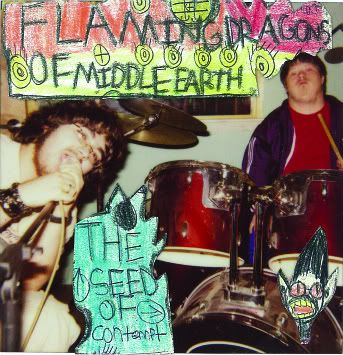 *



*

FDOME The Beth of Madness CD-R (Mabel Flav 2008)

FDOME

The Seed Of Contempt

LP** DOWNLOAD (Feeding Tube 2010)
**Volcanic Tongue Sept. 2010 Tip of the Tongue**
FDOME

Electric Scaryland

TAPE / SAMPLE (Beniffer Editions 2011)
FDOME

Sexual Gaga Singles

TAPE (Mabel Flav 2011)
FDOME

Smash The Teacup

TAPE (Mabel Flav 2011)
FDOME / Wampum Physics

Horny Gaga Dog

split TAPE (Mabel Flav 2011)
Jason Martin / FDOME split TAPE (Mabel Flav 2012)
Guerilla Toss / FDOME Sexdome split TAPE (Feeding Tube 2012)
FDOME The Purple Album DOWNLOAD (Mabel Flav 2012)
FDOME All Roads Lead To DOME LP/CD-R DOWNLOAD (Mabel Flav 2014)
*
A 45 minute interview with Danny Cruz can be found on
Cave Bears

Live at the Whisky 1977

(Scotch Tapes 2009)
*
Buy "The Seed of Contempr" at feedingtuberecords.com
Check out Danny's new artist website
Like us on facebook
Complete discography - discogs
Check out the Mabel Flav youtube
channel
Cruzian Links
Flaming Dragons of Middle Earth -
fan page
The Seed of Contempt
reviews -


Start your own Mudlightning Metal band and
remember, EDCM = Electric Danny Cruz Music !!!